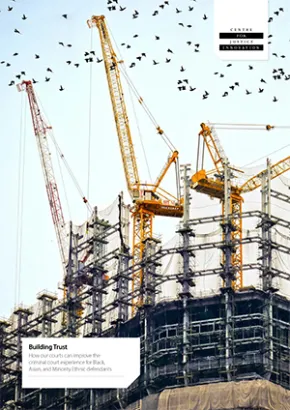 Widespread distrust among British-born Black, Asian and Minority ethnic (BAME) people towards the British justice system is undermining the legitimacy of our criminal courts.
Our report looks at the origins of the lack of trust in the system, why perceptions of fairness and trust in the justice system matter and what can be done to improve the experience of court for BAME defendants.
Why trust  matters
Trust in the fairness of our courts is key to the legitimacy of the criminal justice system.
Our courts are charged with guaranteeing our fair and equal treatment before the law. While the British judicial system has a reputation as one of the fairest in the world, our criminal justice system does not command the trust of our Black, Asian, and Minority Ethnic (BAME) citizens. A majority (51%) of British-born BAME people believe that the criminal justice system discriminates against particular groups and individuals, compared to only 35% of the British-born white population.
This lack of trust has two specific negative consequences:
It may be leading to BAME defendants receiving more severe sentences by making them less likely to plead guilty. Defendants who plead guilty at the first opportunity receive a one-third reduction in their sentence. But male BAME defendants are 52% less likely to plead guilty in Crown Courts than similar white defendants.
Perceptions of unfair treatment within the court process and lower levels of trust in the courts are likely to increase the chances that BAME offenders will go on to offend again.
How to build trust 
We reviewed approaches to building trust and tackling racial disparity in four similar countries: Australia, Canada, New Zealand and the USA. Having analysed the way these countries address this issue,  our report recommends that our courts can improve the experience of court in the following ways:
The Ministry of Justice should work with Her Majesty's Courts and Tribunals Service(HMCTS) can expand the existing data on racial disparity in the adult criminal court system.
The Ministry of Justice should require each local justice area bring together agencies from across the criminal justice system to look at their local rates of racial disparity and produce action plans.
HMCTS should ensure that making the court process feel fairer for all defendants is at the heart of its court reform programme by providing clearer explanations of the court process, training judges, magistrates and court staff in better courtroom engagement and introducing more local, pop-up courts in civic buildings in accessible locations.
The HMCTS court reform programme should ensure that the criminal court system engages and understands the communities within which it works by introducing ways of measuring the perceptions of fairness of victims, witnesses, and defendants in the court process.